Emporium Artist in Focus: Barbara Radcliffe
Emporium's Autumn Artist in Focus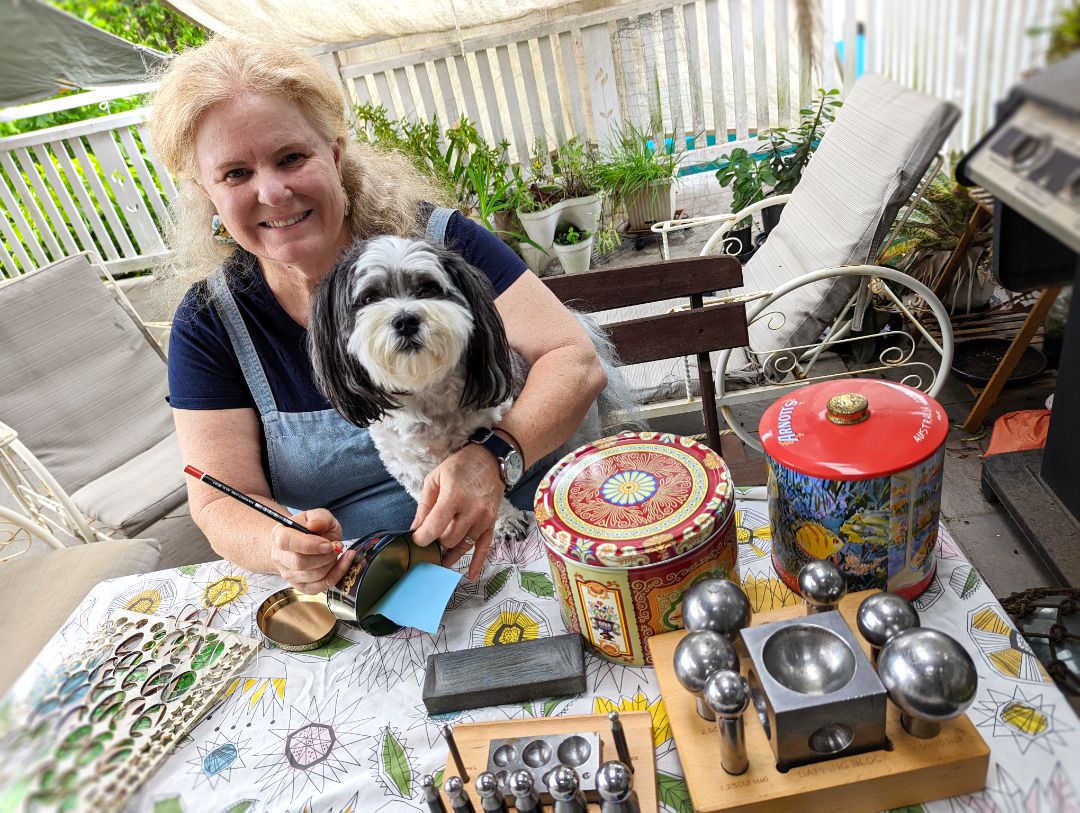 Barbara has been a consigned artist to the Reverse Emporium since early 2021 bringing to our eclectic collection of gifts her beautifully constructed jewellery repurposed from vintage tins and pewter under the label, Inya Ears. As our Artist in Focus, we asked Barbara a series of  questions to get more insight into her creative process.
At RGQ we view the waste we salvage as our 'raw materials' for creation. What are your raw materials?
The main element in most of my earrings is painted tin. I search various op shops for biscuit and other tins that have motifs or patterns that I can use. Only about one in twenty tins are chosen. I generally use solid  Sterling Silver ear wires because most people prefer them. Gold plated ear wires are used when the colours in the tin demands this.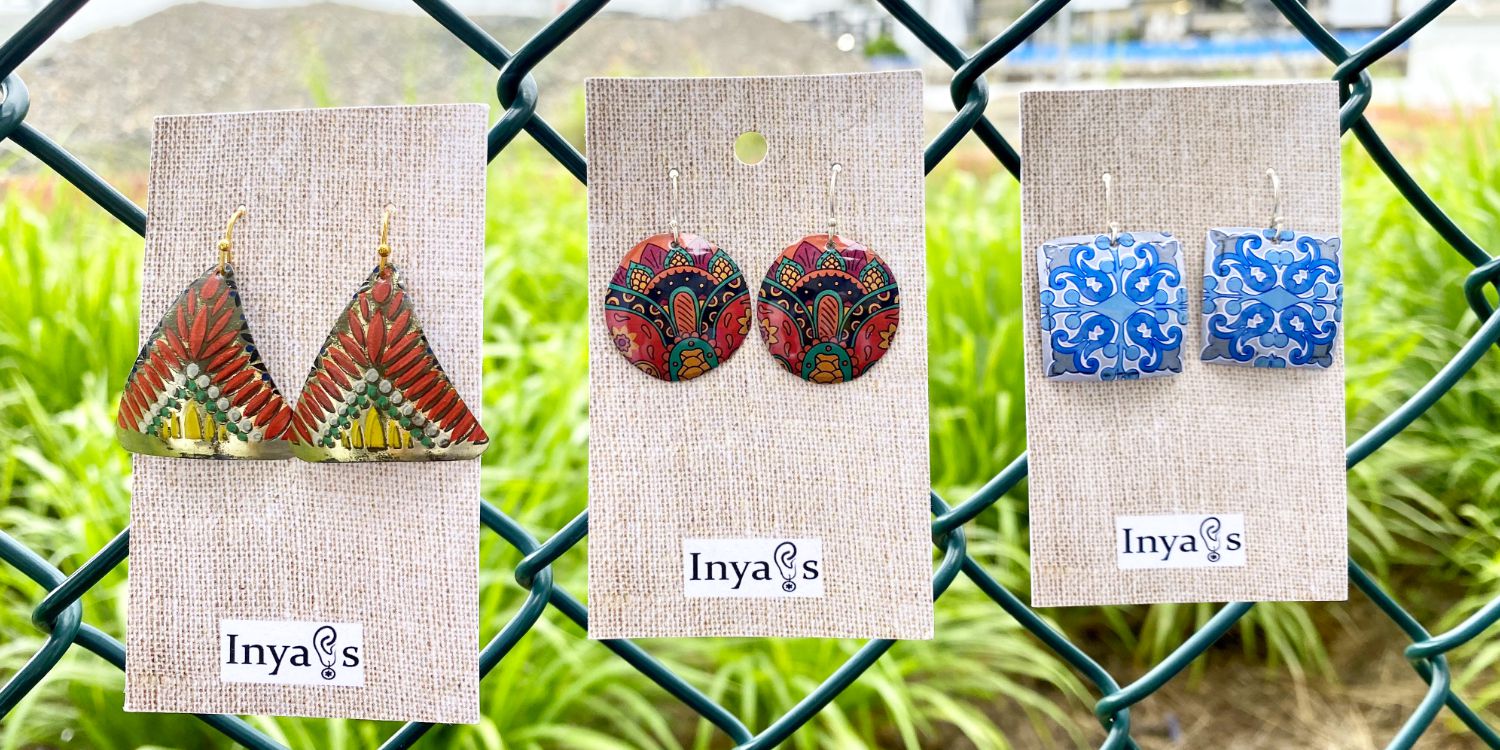 For my pewter jewellery and other pieces, I recycle old pewter goblets and mugs.  All the pewter I use is lead-free.
Are there any trade secrets you abide to in order to creatively transform the salvaged tins and pewter you find at op shops?
For my tin earrings, moulding then in a dapping block transforms their shape and makes them shine. I also have to smooth any edges with a rubbing stone.
My pewter cast objects require me to melt the pewter to around 200 degrees Celsius and then pour into a silicone mould. When cool, I have to pop the items out of their moulds and tidy them up.
This includes rasping and sanding with sandpaper, starting with a course grit and ending with a very fine grit wet and dry sandpaper. For my pewter drop earrings, I simply drip the melted pewter onto a silicone mat and hope some interesting shapes will emerge.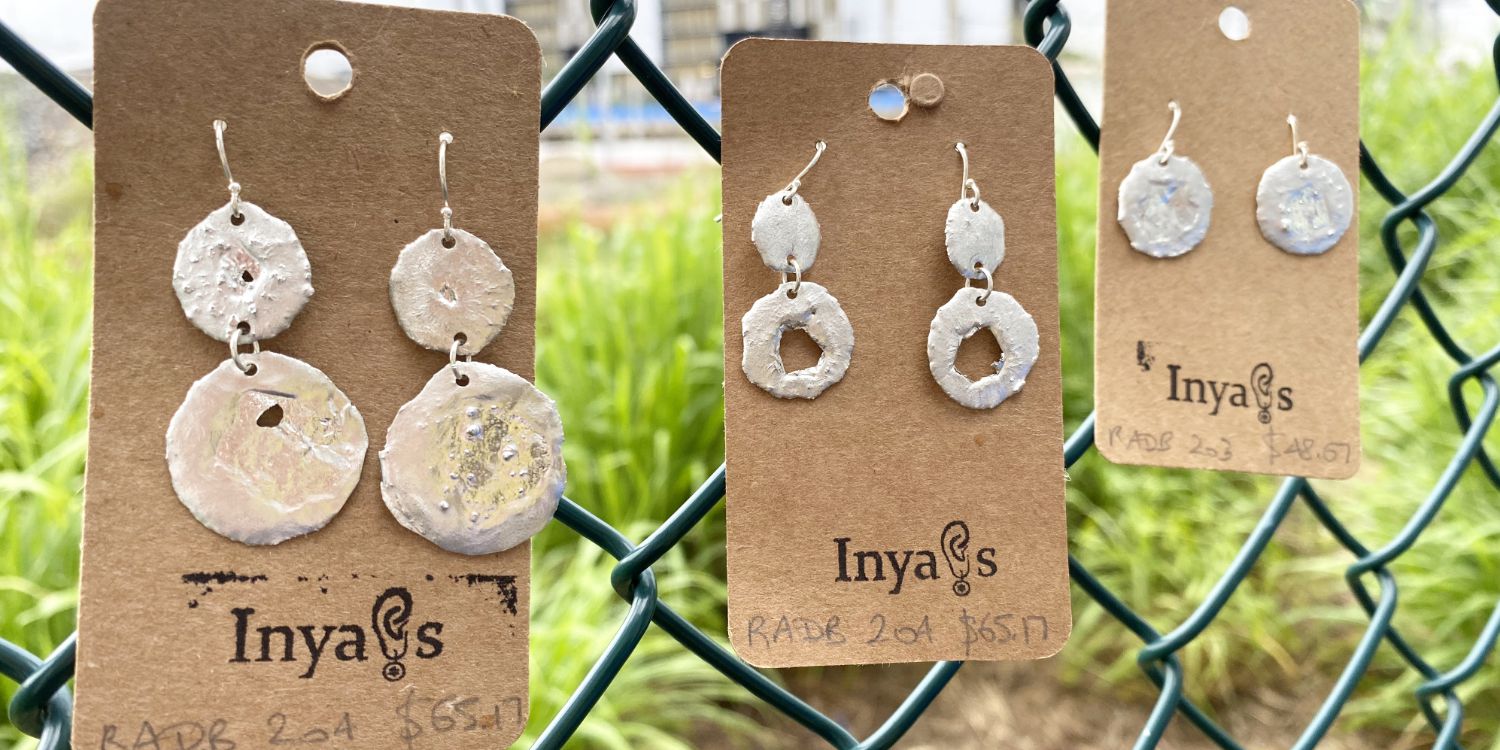 It sounds like the perfect example of art meeting science, which is what we love at RGQ! How did you discover these salvaging techniques?
I really enjoy learning new skills and meeting other creative people. I am currently learning silversmithing so I can incorporate recycled Sterling Silver into my jewellery. I also have a fascination for gargoyles. So watch out for some pewter gargoyle jewellery in the future!
Do you have a favourite piece in your collection?
My current 'go to' earrings are my pewter drop earrings. They go with everything and look so organic.
We're so intrigued with the aesthetic design of each piece in your collection. Incredibly eye catching. Do you think that's what makes Inya Ears stand out?
Because of the processes used in making my jewellery, almost all my pieces are unique or very limited in their numbers. It is rare for me to find two tins the same. Often there is even variation within pairs of my earrings. All my pewter drop earrings are a little bit different in shape, size and texture.