Corflute - a Creative reuse staple
4 practical ways to repurpose coreflute for the home and garden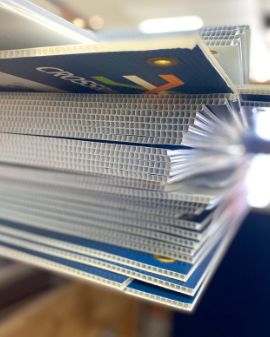 If you haven't heard of Corflute® then chances are you've seen it. They're what most election, major event and property signs are made of.
Corflute® is a corrugated polypropylene, which is a synthetic resin that has been engineered to be light-weight, weather-resistant and rigid.
Despite being a hard plastic, the properties of its composition renders it unsuitable for kerbside recycling services in Australia.
Therefore the only avenue for responsible disposal are through specialised recycling facilities or reuse centres, like us.
Corex – trademark owners of the Corflute® name – say that they can recycle Corflute® that is returned to one of their processing facilities in Melbourne, Sydney or Brisbane. This is great but the rest of Australia may be left wondering...
...What can they do to stop Corflute® that's already out there in circulation from ending up in landfill?
As a Reuse and Eco Arts Cooperative we see so much potential in Corflute®, which is why we consider it as a staple for anyone wanting to journey into a reuse and zero-waste existence.
If you're in a position to rescue a discarded sheet of Corflute® then why not consider using it for one or all of the following projects:
Seedling Protectors & Tree Guards
Cut a rectangle using a Stanley knife then rule it up into thirds using a ruler and soft pencil. Lightly score along the lines so that you can bend the edges to form a triangular prism.
HOT TIP : Be sure to regularly check in on the protectors/guards so that they don't experience photodegredation. The best way to do this is to have a couple of sets cut up and ready to go so that you can routinely rotate them.
Office Storage Box
Super practical and super durable. We couldn't look past this set of DIY instructions by one of our favourite sites, the Instructables. Give it a go!
Soap Moulds
A key part of the process of reforming your slithers into new blocks of soap, is to pour them into heat resistant moulds. We found these DIY steps for a Corflute® soap mould by EvenSewSteph that we thought were easy to follow.
Bird Box
Why not take a birdhouse template that has been drafted for timber, such as Bird Life Australia's Australian Native Nesting Box, and substitute in Corflute® as your base material? We road-tested this suggestion and drafted up a stencil + step-by-step guide so you can too. If you're after a classic birdhouse design then check out the last image by France-based makers.

Would you like to pick up a sheet of plastic flute board from us?
All our 
Corflute® 
stock has come to us as high volume 
donations from local businesses
 and organisations. Once received at our warehouse we'll either send them onto the shop floor for resale at 50% of the regular retail value or send them to our workshops team for use in their 
STEAM P-6 school workshops
.